We understand video is very confusing and consists of many moving parts:
Storage
Encoding
Delivery
Player
Publishing
Can you say....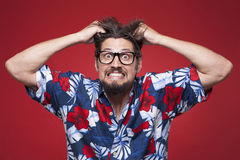 Where do you start and how do you make sure your viewers experience focused, uncluttered, smooth playback?
As a way to bypass this pain, site owners interested in telling their story through video simply upload files to YouTube and embed it on their site. YouTube offers many benefits such as distribution, traffic back, and simple publishing, but site owners can't stand the unprofessional overlays, ads, and related videos showing up from competitors on their site.
We built SmartVideo to remove the cost and complexity by solving all of those confusing logistical parts in one script. Site owners can keep the benefits of YouTube but unlock a better way when publishing video on their site, effortlessly.
We often get asked how the platform works since it seems magical.
Short answer:
Magic! 😊✨

Longer answer:
1. Once you install our Javascript into the <HEAD> tag, SmartVideo scans for YouTube videos on your site and displays them in a clean, fast loading player automatically without any extra work on your part.
2. Now when the page with the player loads the first time, it lets SmartVideo know to pull that video in and process and store it on our network so we can deliver it on the next view with our accelerated playback technology.
3. So this means you can keep uploading your videos to YouTube and embed them on your site while SmartVideo continuously looks for new embeds and convert them over, automatically.
4. We only grab the video from YouTube, or wherever you may store your videos, swap-out the embed codes, and load a clean, fast loading player. The video is then served via our accelerated playback technology.